HP TET Recruitment 2019 – Apply Online for Himachal Pradesh Teacher Eligibility Test अप्लाई करे।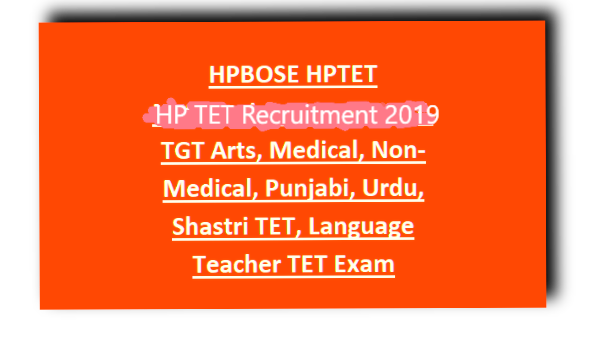 Qualification
10+2, D.El.Ed, BA, B.Sc, B.Com, B.Ed, B.El.Ed, MA
Date of submission of online application: 07.05.2019
Last date submission of application :27.05.2019 (Till 11 : 59 PM)
Last Date for Payment through Payment Gateway 27-05-2019 (Till 11:59 PM)
Download Admit Card from Board's website 4 days before the Exam.
SCHEDULE OF EXAMINATION
1
J.B.T. TET
16-06-2019 10.00 AM To 12.30 PM
2
Shastri TET
16-06-2019-02.00 PM To 04.30 PM
3
TGT(Non Medical) TET
17-06-2019 10.00 AM To 12.30 PM
4.Language Teacher TET
17-06-2019 02.00 PM To 04.30 PM
5
TGT (Arts) TET
23-06-2019 10.00AM To 12.30 PM
6
.TGT (Medical)
TET 23-06-201902.00 PM To 04.30 PM
7.
Punjabi TET
30-06-2019 10.00AM To 12.30 PM
8
. Urdu TET
30-06-2019 02.00 PM To 04.30 PM
Application Fee
Fees for Teacher Eligibilit Test 2019 Examination:-
GENERAL & their Sub-Categories
Rs. 800/-(Rupees Eight Hundred only)
OBC/ST/SC/PHH
Rs.500/-(Rupees Five Hundred only)
Payment Mode (Online)
: Through Payment Gateway by Net Banking or Debit/ Credit Card
1.
TGT(Arts)
B.A, B.Com, B.Ed, B.El.Ed (
50% Mark B.Ed.
)
2.
TGT(Medical)
B.Sc (NM), B.Ed, B.El.Ed, B.Sc (NM).Ed
3
. TGT(Non-Medical
B.Sc.(NM) (B.Ed.)
4.
Shastri
S
hastri from an institution/ University recognised by HP Govt.
5.
Language Ieacher
B.A
D.El.Ed, B.A, B.Ed, M.A
6.
Junior BasicTraining (JBT)
10+2 with 50% marks / (B.E1.Ed).
, D.El.Ed
7.
Punjabi Language Teacher
B.A.M.A. (Punjabi) with Punjabi least 50% marks with Punjabi
8.
Urdu Language Teacher
.A. with Urdu/M.A. (Urdu)
D.El.Ed, B.Ed
EXAMINATION CENTRES FOR TET 2019 Rev. Sub. Division wise)
Bilaspur Karsaog
Ghumarwin Bharmour
Chamba Chowari
Dalhousie Killar(Pangi)
Tissa Salooni
Barsar Bhoranj
Hamirpur Nadaun
Nahan . Sujanpur
Paonta Sahib Baijnath
Rajgarh Dehra
Sangrah Karsaog
Mandi Padhar
Sarkaghat Sunder Nagar
Chopal Dodra-Kewar
Rampur Bushehar Rohru
Shimla (Rural) /Shimla (Urban)
Nahan/Theog
Paonta Sahib/Rajgarh/Sangrah
Dharamshala Shillai Jaisinghpur Arki Jwalamukhi Kandaghat Jawali Nalagarh Kangra Solan Nurpur Amb Palampur 23 Bangana Kalpa at Reckong Peo Haroli Nichar at Bhawanagar Una Pooh (ADM) Dharampur Anni 27 Fathepur Banjar 28 Shahpur Kullu 29 Indora Manali 30 kumarsain Kaza 31 Jhandutta Keylong 32 Swarghat Udaipur 33 Balh Gohar 34 Janjehli Joginder Nagar 35 Nagrota Bagwan Dheera
Age Limit:
There is no upper age limit to apply for the TET.
DE AND METHOD OF ONLINE APPLICATION
Online application form
www.hpbose.org
पर उपलब्ध है
STEP TO FILL UP ONLINE APPLICATION
1 Select your subject in which you want to appear .
TGT (Arts), TO' (Medical), TGT (Non-Medical), Shastri, LT, JBT, Punjabi,Urdu Carefully
2
Name of the Candidate, Father's/Mother's Name
3 Date of Birth:
4 Contact/Mobile No:
5. Enter your valid and active
E-Mail ID
in the appropriate box.
6.Select your
category
GEN, SC, ST or OBC
7.Sub-category:
8.Select the appropriate option
Male/Female.
9.Candidate's address (use capital letters): \
12 Bonafide Himachali
13. District/Revenue Sub Division to which belongs
14 .Preference regarding Exam Centre District & Sub Division.
15.Photograph:
16.Signature of Candidate
17.Print of Confirmation Page